AUTOGRAPHS
www.mickey-mantle.com
FORGERY ALERT:
Mickey Mantle's autograph is definitely one of the top ten most forged autographs in sports memorabilia. If you consider the fact that Mickey's fee for signing at card shows was quite high, how can we account for all the 'cheap' Mickey Mantle autographs currently on the marketplace? Even the Mantle family doesn't have a large supply of Mickey's autographs. How could it be that certain vendors have a seemingly unlimited supply? The forgers have gotten quite crafty and good at their trade. So much so that they can fool experts but especially the average collector. I know the FBI has been involved in trying to help the autograph industry with sting operations such as "Operation Foul Ball" but there is still much work to be done to clean up the industry.
85% MINIMUM FAKES:
Over the past seven years, I have collected only Mickey Mantle memorabilia and autographs. I have closely analyzed thousands of known good autographs and feel that I can, within 90% certainty, tell if a Mickey Mantle autograph is real or not. On Tuesday, June 11th, 2002, I evaluated approximately 200 Mickey Mantle signed items on Ebay in an effort to try to judge the volume of legitimate vs. fake Mickey Mantle autographs on the market. Of the 200 items, I felt that only about 30 (15%) were real. About 100 (50%) were obvious fakes. The rest were suspicious at best (not worth taking the chance on with hard earned money). It is important to note that quite a few of the ones that I considered real were either from Upper Deck Authenticated or from Salvino. When you remove those from the mix, that means that roughly 90-95% of the Mickey Mantle autographs are fake.
INDEX CARDS:
An interesting note was the fact that there were several 3x5 index cards signed by Mickey available on ebay. First question: If you were going to pay $100 for Mickey's autograph at a card show, why would you get it on an index card? Second question: If you just happened to see Mickey somewhere in public and decided to get an autograph, who carries around 3x5 index cards? Either way, I am VERY suspicious about signed 3x5 index cards. That is NOT to say they are all bad but to make you think twice about them.
THE REAL MICK:
In an effort to help educate buyers and to discourage forgers, I am publishing this page of known good Mantle autographs. Mickey signed thousands (if not hundreds of thousands) of autographs during his lifetime and he became a pro at knowing EXACTLY where to sign photos and posters to make it look as good as possible. I remember reading that Mickey said he always wanted to be very careful when signing to make sure that the fans got their moneys worth. If you ever find a photo, magazine cover, poster, etc that is signed in a place that makes the auto difficult to read when compared to another spot he could have signed, it probably wasn't Mickey who signed it or it was signed for free somewhere while in a hurry.
PRICING:
Mickey's autographs are one of the most expensive on the market today. Following are approximate prices that I have observed on Ebay auctions for Upper Deck Authenticated (UDA) items vs non-UDA items. Mantle items authenticated by PSA/DNA fall somewhere between the two prices.
UDA ball... $600-$800 (non-UDA... $250-$350)
UDA bat... $3,500-$5,000 (non-UDA... $1,500-$2,500)
UDA jersey... $5,000-$7,500 (non-UDA... $1,500-$2,500)
UDA 16x20 photo... $750-$1,000 (non-UDA... $350-$500)
The reason that UDA demands higher prices is because they are guaranteed to be good and have a hologram serial number attached. Not everybody can afford UDA Mantle autographs and there are definitely good non-UDA autos out there... but, there are also a lot of fakes.
TIPS for judging non-UDA Mantle autographs:
1) Try to determine the origin of the autograph. When was it signed? Where was it signed? If there is no known info, beware.
2) Compare the auto to UDA autos and/or autos on this page. If they are VERY similar, you may be safe. If they differ greatly, beware. I have seen many Mantle autos that I firmly believe to be fake that actually look better than Mickey's own autograph and, therefore, they don't exactly match the ones below.
3) Letters of Authenticity (LOA), Certificates of Authenticity (COA) are only worth the paper they are written on. Do not go by these alone. Most fakes also come with a LOA or COA. If possible, request a COA (or LOA) that offers a lifetime guarantee on the autograph if you ever determine that the autograph is questionable.
---
Below are eight guaranteed authentic autographs. The first two are Upper Deck Authenticated. The remaining six, I actually observed Mickey sign right before my very eyes at the 1994 Mickey Mantle Week of Dreams baseball fantasy camp.
Good luck in your autograph collecting. Do your homework and you will greatly reduce your changes of getting burned.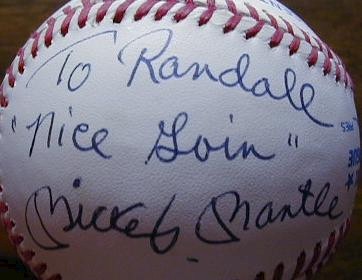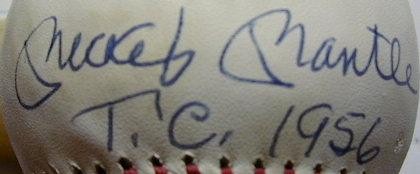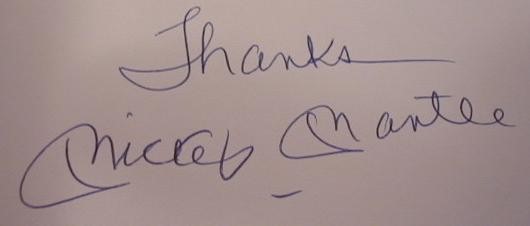 ---